'We're Wolverhampton, we're on our way back!'
In their second season of Premier League football since promotion in 2018, business is finally booming for the newly wealthy Wolverhampton, who've gone from away trips to Barnsley and Burton Albion to sixth in the league and a Europa League round of 16 tie.
Nuno Espírito Santo will be hoping that his charges haven't lost any momentum after Premier League football was cruelly snatched away from us in March, with the west Midlands club just five points off Chelsea and the promised land of Champions League football.
"Alright, Simpson, let's go over the signals. If I tug the bill of my cap like so, it means the signal is a fake. However, I can take that off by dusting my hands thusly." pic.twitter.com/uQOqzOVylH

— Wolves (@Wolves) June 7, 2020
Wolves were in pretty decent shape before the league was suspended, unbeaten in their last five, but their most recent result, a 0-0 draw with struggling Brighton, left much to be desired.
Though Wolves have a tough mix of opponents to contend with in the proverbial run-in, they'll take heart from their impressive form against the league's big boys, which has seen them beat Manchester City 2-0 at the Etihad, and sensationally come back to defeat Spurs in north London.
Here's how the rest of a season which has had Wolves fans daring to dream could play out…
---
Matchday 30 – West Ham (Away) Arsenal FC v West Ham United – Premier League
The Matt Jarvis derby just won't be the same behind closed doors, but Wolves will see it as a great opportunity to get up and running again against a West Ham side so troubled that they (allegedly) didn't want to play out the rest of the season.
Wolves have an impressive away record, and although West Ham have occasionally defended with something resembling solidity under new manager David Moyes, they remain VERY BAD, and their questionable likely full-back pairing of Ryan Fredericks and Aaron Cresswell should be easy pickings for Diogo Jota and Adama Traoré.
Expect Wolves to control a game where they have the best of the few chances on offer.
Verdict: Win
Points Tally: 46
---
Matchday 31 – Bournemouth (Home)
AFC Bournemouth v Wolverhampton Wanderers – Premier League
If Wolves have been roaring away from home this season, they've occasionally been toothless at the Molineux, and the fact that they are 12th in the league for home victories suggests that their style does not favour playing against a deep defences.
There is, therefore, serious potential for a howler here after a routine away with in east London, against a Bournemouth team who probably needed a break to figure out what the hell is going on this season.
Wolves' lack of a genuine playmaker who can operate further forward will be their downfall here, and
Rúben Neves' attempts to unlock Traoré from deeper positions will be in vain against a Bournemouth side who might actually get their sh*t together when football resumes.
Verdict: Draw
Points Tally: 47
---
Matchday 32 – Aston Villa (Away) Neves' stunning goal helped Wolves to victory last time out against Villa
There's no love lost whatsoever between these two, but with Villa likely to be slipping towards the abyss by this stage of the season, Wolves will delight at the prospect of inflicting more pain on their Midlands rivals.
The most recent fixture between these two old enemies saw Neves find the corner in sensational style before the stroke of half-time, but they won't need anywhere near as much quality this time round.
With Premier League defences warier of Jack Grealish now, and Villa's struggling defence barely held together by Tyrone Mings, Raul Jiménez should be looking to get himself into the Golden Boot conversation here.
Verdict: Win
Points Tally: 50
---
Matchday 33 – Arsenal (Home)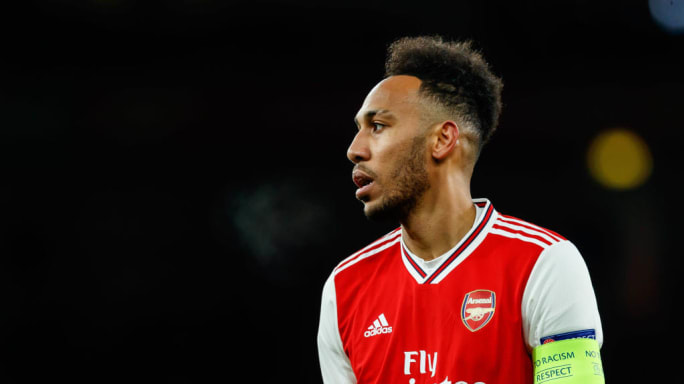 Pierre-Emerick Aubameyang scored against Wolves at the Emirates
Not enough people are talking about Arsenal as one of the potential surprise packages in this upcoming mini-season, and Mikel Arteta will be looking to send a warning shot to the rest of the league with wins against the likes of Wolves.
For would-be Champions League participants, Wolves have a pretty shabby record at home against the 'top six' (a grouping which doesn't really mean much any more given how appalling Spurs are at the moment), losing three times, drawing once and winning once in five attempts.
Against an Arsenal side which can actually defend now (I know!), and which is building a dynamic young side around the likes of Gabriel Martinelli, Eddie Nketiah and Bukayo Saka, Wolves could suffer a serious blow to their European aspirations here.
Verdict: Lose
Points Tally: 50
---
Matchday 34 – Sheffield United (Away) Wolverhampton Wanderers v Sheffield United – Premier League
If I'd have told a Wolves fan that their game against Sheffield United would be a European play-off at the start of the season, they'd probably have spat out their black pudding (although they'd probably be more surprised at the news that Premier League football was set to be played in empty stadiums in late July).
Wolves will be looking to bounce-back from their (hypothetical) defeat against Arsenal, but will have to put in a shift at one of the Premier League's real fortresses this season.
Though the Blades have been pretty decent at home, watching the Bundesliga has shown us the importance of fans to high-stakes duels likes these, and Willy Boly will be determined to keep Lys Mousset quiet on this occasion after his goal in the reverse fixture.
Verdict: Win
Points Tally: 53
---
Matchday 35 – Everton (Home) Richarlison's 80th minute winner settled the last match between these two
Whew, we've just about recovered from September's instalment of this fixture, which saw five goals (including three in the first 12 minutes), a sending off, a 75th minute equaliser and 80th minute winner.
Hopefully this pair of mavericks keep it sensible in the reverse, a game in which Everton will probably have very little to play for in.
Everton could be a real wildcard at the back end of the season – to paraphrase Bruce Lee, it's the man with nothing to lose that you should fear the most – with relative freedom under a new manager they could string together some surprises.
But lads, it's Everton, and ultimately it wouldn't be surprising if the guile of Jiménez and Jota was a bit too much for Michael Keane on the day.
Verdict: Win
Points Tally: 56
---
Matchday 36 – Burnley (Away) Burnley FC v Tottenham Hotspur – Premier League
Wolves have not won three in a row this season. They need to do so to stay in the Champions League hunt. The man standing between them and that objective? Sean Dyche.
You want European football? You're gonna have to earn it by marking Chris Wood and Jay Rodriguez for 90 minutes as they throw their entire soul into every ball that speculatively loops towards the near post, and you're gonna have to come up against Nick Pope and all 11 of his Premier League clean sheets this season.
This is the game where we see what Wolves are made of, but if Conor Coady stays focussed, Leander Dendoncker gets stuck in and Traoré refuses to give Charlie Taylor a moment's rest…they'll probably still draw 1-1 anyways.
Verdict: Draw
Points Tally: 57
---
Matchday 37 – Crystal Palace (Home) Wolves equalised in the 96th minute against Palace in September
Out of the frying pan, into the fire – just ask Liverpool, you do not want to be needing a win against Crystal Palace in the penultimate game of the season.
Roy Hodgson's side have the 8th best points per game record away from home in the league, and have been a tough nut to crack after another efficient season by the wily old Englishman – but Wolves might be in luck.
You'd expect Palace, already on 39 points, to have secured Premier League safety by this point, and though I don't know if footballers will strictly have their minds 'on the beach' in these unusual circumstances, the Eagles might push the boat out and play someone under the age of 28.
Wolves to bring home the bacon against a rotated side.
Verdict: Win
Points Tally: 60
---
Matchday 38 – Chelsea (Away) Fikayo Tomori scored a stunning goal against Wolves at the Molineux
Let's imagine, for the purposes of making this interesting, that Wolves are one or two points away from Chelsea in fifth.
Away from home, against a team that thrashed them this season, with everything on the line – would you back them?
The one thing that Wolves can pride themselves on this year, as mentioned, is how good they are away against top teams, while Chelsea have not exactly wowed at home, losing a third of their matches at the Bridge.
With this in mind, why not predict Wolves to upset the applecart like its never been upset before? Enjoy Timo Werner when he's playing Europa League football Chelsea!
Verdict: Win
Points Tally: 63